What We Treat
Pre & Post Surgical Rehabilitation
Low Back Pain Therapy
Sports Injury Rehabilitation
Spinal Rehabilitation
Workmans Compensation Injury Rehabilitation
Automobile Accident Injuries
Vestibular Rehabilitation Therapy
Plantar Fasciitis
Ankle Sprains/Strains
Balance Problems
Carpal Tunnel
Fibromyalgia
Headaches
Knee Pain
Neck Pain
Shoulder Pain
Elbow Pain
Tennis Elbow
Golfers Elbow
Pinched Nerves
Sciatica
Post Partum Weakness
Scoliosis
Tendinitis/Bursitis
Joint Sprains/Strains
Total Joint Replacements
Generalized Muscle Weakness/Deconditioning
Degenerative Disc Disease of the spine
Degenerative Joint Disease of the spine
Lumbar Radiculopathy
Cervical Radiculopathy
Postural Deficits
Achilles Tendinitis
Repetitive Stress Injuries
Additional Services
Spinal Decompression or Traction – Mechanical decompression used on the neck and low back to help alleviate pain associated with nerve compression or disc involvement.
Instrument Assisted Soft tissue Mobilization (IASTM) – Manual therapy techniques that utilizes special instruments to help treat soft tissue and scar tissue restrictions.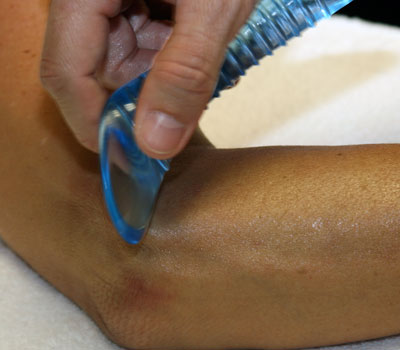 ASTYM – Both Farnsworth Physical Therapy offices are ASTYM certified. ASTYM is a specialized treatment designed to stimulate the body's healing response, resorption, and remodeling after chronic tendon injuries. ASTYM can help you get back to your normal activities – whether work or play – faster.
What sets ASTYM apart from other treatments is that it targets very specific problems, instead of treating a broad range of ailments. By focusing on a specific symptom with ASTYM, and then implementing our custom stretching program, we can provide you with long term relief from pain. To learn more about ASTYM you can visit their official website.
Therapeutic Taping – Taping techniques used to improve muscle performance, reduce swelling, and alleviate pain. We are skilled in using multiple brands of kinesiology tape and most commonly use Kinesio, Rock, and KT tape.
Myofascial Decompression (MFD) – A manual therapy technique that treats problems with muscles, fascia, and scar tissue. MFD or "cupping" utilizes negative pressure tools with movement to treat soft tissue restrictions.
Vestibular Rehabilitation Therapy (VRT) – Manual techniques and specialized exercises used to relieve vertigo, dizziness, visual disturbances, and or imbalance.
Wellness program – Is an after care program for patients that have finished their physical therapy and want to continue a strengthening program for overall fitness. This program is tailored to each patients needs.