What is Carpal Tunnel Syndrome?
The carpal tunnel is a narrow passageway in your hand that is surrounded by bones and ligaments. In this area is something called your median nerve.  When it gets too compressed, you can experience numbness, tingling and weakness in your hand and arm. This can happen when you overuse your hands and wrists.  A big cause of carpal tunnel syndrome is too much typing on keyboards.  But there are many possible causes.  A wrist fracture can be a cause.  Arthritis can deform small bones in your wrist and be a cause.  And some people just have a small carpal tunnel because they were born that way, and that can put them at extra risk of developing this syndrome.
What is it like to have it?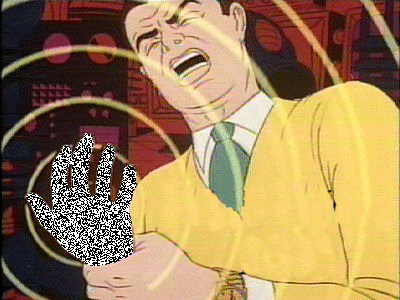 Well, it's not much fun.  The nerve involved provides sensation to the palm side of your thumb and fingers, except your little finger. It also sends nerve signals to move the muscles around the base of your thumb, which is what allows you to use your thumb for all the things a thumb is useful for.  So, when you have carpal tunnel syndrome, you may experience numbness, tingling, and pain.  You may also have weakness in you hand wrist and arm.  These symptoms can range from mild to very extreme and debilitating.
What Can I Do?
If you are having symptoms of carpal tunnel syndrome, there is help for you.  First of all, remember how we mentioned that repetitive motions like typing can be a problem? If you find that your symptoms are worse after doing an activity, then stop doing it.  However, not all of us simply stop typing for the rest of our lives.  (I mean, I have to finish typing this up right now) Luckily, you can help yourself out a lot if you simply take breaks.  Taking a break for few minutes from whatever activity is making things worse can be huge benefit.  So, if your symptoms are flaring up, give it rest for a few minutes, or as long as you can.
There is also a simple stretch that you can do at home on your own that can help.  Here's what you do:
Extend your arm in front of you with your palm up.
Bend your wrist, pointing your hand toward the floor.
With your other hand, gently bend your wrist farther until you feel a mild to moderate stretch in your forearm.
Hold for at least 15 to 30 seconds. Repeat 2 to 4 times.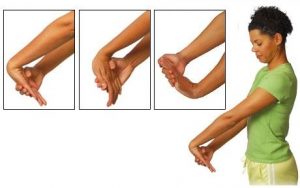 Last but not least, ice can help a great deal.  This is a problem with things getting too inflamed. Ice is a great solution for this inflammation.  Ice down your wrist, hand and arm area for 10 minutes at a time, no more than once per hour.  For more info on icing, check out our post about it here.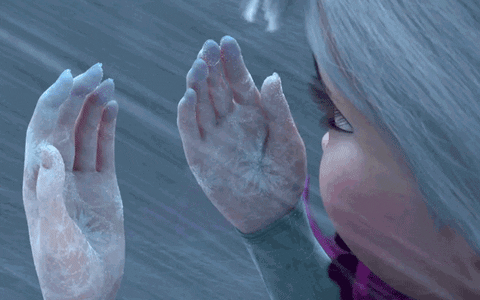 (Queen Elsa never gets carpal tunnel syndrome)
Come See Us
Of course, if you have persistent symptoms do no hesitate to come in to the office and get treated. For more severe cases we have a lot we can do to heal and strengthen your hands and arms and get you feeling better as quickly as possible.
Post written by : Tom Farnsworth, PT