One of the most common types of injuries we see here at Farnsworth Physical Therapy is soft tissue injuries (STI's). These types of injuries happen when trauma or overuse occurs to muscles, tendons, or ligaments. Most soft tissue injuries are the result of an unexpected or uncontrolled movement. For example, stepping awkwardly off a curb and rolling your ankle. However, soft tissue damage can also occur from excessive overuse, especially in muscles and tendons. Pain, swelling, bruising, and loss of function are symptoms soft tissue injuries, which can negatively affect your daily life.
At our office, rehabilitation for an STI often includes a treatment called Astym. Astym promotes regeneration of healthy tissues through the use of special tools. These hard plastic tools vary in size and shape, and provide a deep tissue massage of sorts. This process breaks down restrictive tissues, releasing growth factors and increasing blood flow. As a result, your body stimulates its natural healing response. This treatment is especially helpful for issues like plantar fasciitis, tennis elbow, and calf sprains and strains.
The Astym process is fairly quick and simple. To begin, cocoa butter is applied to the affected area to make it easier for the tool to glide across the skin.  Using the tool, pressure is applied for approximately 5-7 minutes. Afterward, your therapist will help you stretch and strengthen the area to ensure your body heals correctly. Because Astym provides such a deep massage, there can be extra sensitivity to the area after treatment. Don't worry, this is normal. Try to stay positive and be patient with your body during the healing process.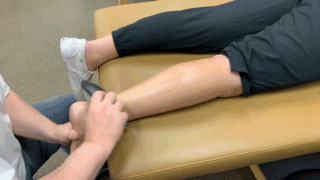 To learn more about your soft tissue injury, or to find out whether Astym would be beneficial for you, call our office to schedule an appointment. We would love to help you!
Post written by: Rod Walker, DPT