Attention all desk jockeys! Bad posture getting you down? Do you find yourself with a sore neck, back or shoulders following your typical workday, especially at the end of the week? Studies show that 60-80% of the work force in the United States spends more than half their day sitting at a desk. That equates to AT LEAST 20 hours per week sitting in a chair. That's more time than some of us sleep in those five working days! For most of us, body aches are inevitable. However, there are ways to prevent bad posture and curb some of the tension that builds throughout the day. Are you taking these three necessary steps to help?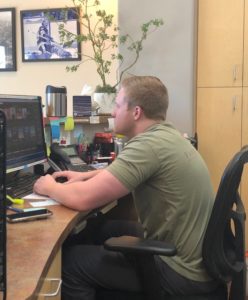 Set up a good ergonomic desk space. Some companies have a designated ergonomic supervisor or team member that will help assess your sitting posture and give suggestions. For those who aren't so fortunate, keep in mind that everything matters: chair type, chair height, desk height, monitor placement, keyboard and mouse placement. So many factors are essential in postural alignment while sitting at a desk. Luckily there are many resources out there to prevent postural faults!
Get up and walk. Sometimes the best way to prevent prolonged sitting….is to stop sitting! Set an alarm on your phone to get up and walk every 30 minutes to 1 hour. A short walk to the bathroom or water fountain would suffice, or if you are able, take a walk outside for some fresh air. In the physical therapy world, we use the phrase "motion is lotion." Move often, you won't regret it!
Perform a short exercise routine throughout the day. Bad posture accumulates with a combination of weaknesses and tightness in the body. Pushing your chair back from the desk to perform a few stretches or exercises throughout your day will significantly improve the symptoms you have as the day progresses. A short routine of specific exercises won't take up too much of your time. After all, you don't want the boss to think you are sloughing off! Performing exercises 2-3 times during your work day will be sufficient to help your body feel better at the end of the day.
Make sure to keep moving throughout the day and take a look at your ergonomic set up. This will minimize the symptoms you get as the day progresses. It will also encourage good posture and leave you feeling better at the end of the day. If you are experiencing any symptoms that you can not fix on your own, we'd love to help you. Contact our office and set up a consultation so we can further assist you.
Post written by: Casey Badder PT, DPT
SFMA Level 1 Certified
Functional Dry Needling (FDN) Certified